Return to Home
Donate
Help Our Cause
ABOUT US
The Foundation is named for David Campbell, a red-headed, blue eyed little boy. who, at three and a half years old, died from a mitochondrial disease called Leigh's Syndrome.
Our Vision
Goals
Achievements
Sponsors


News
Related News
Press Center
Past Press Coverage
Newsletters


More Information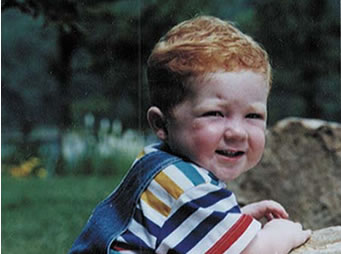 David Campbell / Story
Where we find our inspiration
By Cathy & Dan Campbell
Our son, David Campbell, struggled with a mysterious illness. The odyssey began in April 1998 when he was five and a half months old. A bout of staring episodes took us to the emergency room of St. Agnes Hospital in Baltimore, Maryland, the hospital where David was born. The eight hours of testing that night was just a prelude to what the next three years would bring.
By the age of 14 months, David had recovered from two periods of unexplained muscle weakness and was able to walk on his own. The fourth episode (April 2000) was profound in that David never regained his ability to walk. At the onset, David was like a floppy doll – he could not hold his head up, or sit up, let alone crawl. A second MRI of the spine revealed that the anterior region of his spine was damaged. The referral to specialists began – we were facing the unknown.
David traveled many a mile and was examined by a veritable "who's who" in medicine. From Johns Hopkins and Children's National Medical Center on the East Coast, to UCLA, Stanford, Children's Hospital of Orange County, and finally, UC San Diego School of Medicine, David met the finest individuals one could consult on such a perplexing case. Unfortunately, David's disease course was so unique that it defied diagnosis. Along the way, though, David's spirit and charm captivated the hearts and minds of his doctors, adding to their intellectual curiosity and frustration.
After 12 months of solid recovery, and even the glimpse of hope that David might be cured, David suffered a severe setback in April 2001. David went from riding his tricycle to near paralysis in a matter of days. Medical tests revealed that David was not suffering from an immunological condition where his body was attacking itself – the prevailing theory at the time.