Return to Home
Donate
Help Our Cause
ABOUT US
The Foundation is named for David Campbell, a red-headed, blue eyed little boy. who, at three and a half years old, died from a mitochondrial disease called Leigh's Syndrome.
Our Vision
Goals
Achievements
Sponsors


News
Related News
Press Center
Past Press Coverage
Newsletters


More Information
Olivia Wingard / Story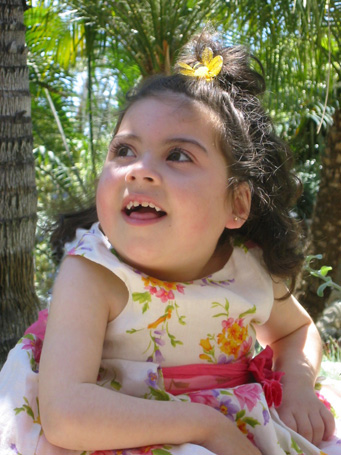 Olivia was born on September 24, 2001 and she was so beautiful! She looked to us like a perfectly healthy baby girl. The next morning the neurosurgeon informed us that an MRI revealed "normal pressure Hydrocephalus" and that nothing could be done for Olivia. After 5 very difficult weeks in NICU, we took our little angel home to San Clemente with a feeding tube, a broken heart and the fear of the unknown. At 8 months old, we had the first indication that she could have a mitochondrial disease -- the level of Lactic Acid in her blood was elevated. When Olivia was 5 years old , she was finally diagnosed with Pyruvic Dehydrogenase Deficiency, a neurodegenerative disorder associated with an abnormal mitochondrial metabolism. From that diagnosis, the mitochondrial disease specialists were able to recommend a ketogenic diet. The combination of the diet and homeopathy has changed her life .. .she is able to have energy not only to be awake during the day but to focus and excel on the various therapies she requires. We recognize that the key to her happiness and ours was finding her diagnosis so she could have the right treatment and diet. We hope that upcoming research can provide our little Olivia with additional improvements to her quality of life and help other parents who could be facing similar challenges.

Olivia's proud parents,
Richard and Lorena Wingard